What readers are saying about No Angel by Theresa Sneed
5.0 out of 5 stars One of the best reading experiences I've had. September 27, 2011 By  Luis Valenzuela, III (Mesa, AZ)
This review is from: No Angel (Paperback)
I bought this book expecting a nice story about angels helping people and maybe experiencing a little self doubt and frustration. What I got was No Angel, the most spiritual reading experience I have had in a fantasy book ever. With a protagonist that annoyed me to no end, I really didn't think I could get to like him or that he could be developed at all. By the end of this story I was in tears of joy at what I read and tears of despair at not having a sequel immediately available. The mythos is unbelievably easy to grasp and vast in its future storytelling implications. The characters and their motivations are not immediately as transparent as they appear, and I love that about this cast of characters. I cannot praise this or rate this highly enough, I have to share it. Thank you, Theresa Sneed, thank you!
Brianna rated it Shelves: first-reads
This book was magical and uplifting. I loved this book from the start. No Angel gave me a new perspective on the afterlife and a possible consequence of our daily choices. Since reading No Angel I have tried harder to be a better person. Thank you Theresa for giving me a chance to read this wonderful story.
5.0 out of 5 stars Awesome, unique, and thoroughly enjoyable, September 13, 2011 By Shawnette M. Nielson (AZ)
This review is from: No Angel (Paperback)
What a fun story. I have never read a book that intertwined the spirit world and our world so descriptively. Unique images and lessons learned from reading 'No Angel' will stick with you forever. As entertaining and delightful a book this was, I would say even beyond that, it is a book that can change lives…or at least improve them a bit. Funny to say, but I believe I am stronger against temptation because of reading this book. Jonathan, the hero, is a riot of fun. I love watching him grow and learn through life lessons the value of love, friendship, and loyalty. It is a truly beautiful story. Thank you Theresa Sneed!
5.0 out of 5 stars 'No Angel' Intriguing Read, September 15, 2011 By Valerie J. Steimle (Loxley, Alabama)
This review is from: No Angel (Paperback)
Reviewing books from writer friends is a special privilege. Reviewing fictional stories that catch my attention is even better. Theresa Sneed's debut novel "No Angel" is a special story about a guardian angel who didn't want to be a guardian angel. Jonathan Stewart had issues. He was assigned to watch over a special girl on earth but he was counting the days when he would be released from his "calling". From the affects of his mysterious past, Jonathan was grumpy and all business.
With a great imagination and some experience with the spirit realm, Theresa Sneed writes an intriguing story which takes many twists and turns. An unexpected adventure into the underworld captivates the reader until the very satisfying end.
As I read this story, it reminded me of my deceased husband so this story has a special meaning for me. Many others apparently have felt the same way as readers are saying it has given them comfort to read about what may happen in the Spirit World.
It's a great read and I'd recommend it to anyone.
Jocelyn Palmer Stoker Theresa, I just read your "No Angel" book. I got it on my Kindle and it is terrific!! I loved it!! I can hardly wait for the second book! I always knew you were talented but never knew how much until now. Keep up the good work. People like me need people with your talent. I have read a Dessert Book full of books and I know a good book and author and you are without a doubt one of the best!!
Sep 07, 2011 Nate Hailey rated it Recommends it for: Everyone
Shelves: read-again
I recently finished No Angel. Awesome doesn't even begin to describe what I just experienced. Truly an amazing book from truly an amazing author. Thank you Theresa for bringing me the joy I just read! Especially since I have such a disdain for reading. This one is going on my shelf to be read again and again!
5.0 out of 5 stars Wonderful Guardian Angel Story, September 7, 2011 By lkm8 This review is from: No Angel (Paperback)
Theresa hooked me on the first page and didn't let go until the satisfying end. Her treatment of guardian angels and life before, during, and after mortality was creative and original. This is a book that belongs in everyone's home library. Well done.
5.0 out of 5 stars No Angel by Theresa Sneed, September 13, 2011 By Betsy Love "Betsy Love LDS Author" (Gilbert, AZ USA)
This review is from: No Angel (Paperback)
Jonathan is a post mortal spirit whose time spent on earth was a huge disappointment, and he wants never to return to earth again. He is quite happy in his work assignment in H&EB (Heaven and Earth Bound-kind of like an airport terminal director showing people which line to get into going to earth and returning). Each post mortal spirit must fulfill one guardianship, so he applies for the position for a spirit who is marked for early death. That way he can come back quickly. Since he knows that his client will not spend very long on earth, Jonathan doesn't read the handbook. And not knowing is a very bad thing! This delightfully humorous book takes you through so many human emotions as you experience Jonathan's antics, discoveries, and turning his heart over to God. Theresa Sneed does a fabulous job of teaching eternal truths without being preachy. I came away with greater faith and knowledge of my Heavenly Father and his great plan of happiness. I highly recommend this book!
5.0 out of 5 stars A SPIRITUAL FANTASY FAMILIES CAN TREASURE, September 24, 2011
By Laura Lewis "LC Lewis" (Maryland)
This review is from: No Angel (Paperback)
Debuting author, Theresa Sneed, chose an ambitious project for her first novel, a spiritual fantasy titled No Angel, and I'm pleased to report that it delights on many levels.
Sneed's No Angel opens in a heavenly realm, moves into mortality where good and evil spirits impact humans, and then she thrusts her readers into a frightening underworld where even good spirits can become trapped through error. Each world is filled with complex characters and governed by strict rules–rules Sneed's main character, a reluctant Guardian Angel named Jonathan Stewart, hasn't bothered reading.
Jonathan was sorely disappointed by his own mortality and in an effort to make this second earth experience, (required by all post-mortal spirits), quick and painless, Jonathan selects an EMD client, Early Marked for Death, knowing his client will die young, allowing him to complete his assignment early and quickly exit earth once and for all.
What Jonathan failed to learn from that unread handbook is that special conditions surround the exceptional spirits assigned to be EMDs–their goodness makes them prized targets of the dark spirits.
Jonathan's poor attitude is a disappointment to the more dedicated Guardians, but more importantly, it also places him in the cross-hairs of dark spirits who pose a threat to his successful completion of his mission, and to Faith, the child, he has been sent to guard.
But Jonathan has two allies, a loyal Guardian Angel named Grace, who takes a special interest in him, and Celeste Knight, the premortal spirit of Faith. Their interest in Jonathan is not accidental.
Sneed does a wonderful job of fleshing out heaven and the underworld with rich, vivid description that drives the theme of good versus evil deep into the reader. Still, the book is not dark and eerie. Sneed successfully slingshots between humor and drama during Jonathan's bumpy, spiritual evolution, providing a change of pace that makes this book suitable for YA as well as adults, while also endearing this disgruntled soul to the reader. Without those humorous passages, No Angel would have been a dark, eerie tale. And though that was not Sneed's purpose in writing this book, she proves she has the talent to go that direction if she ever chooses.
The explanations of the rules of each world slow the read in places, but they are essential to the ensuing tension, and there is plenty of tension, which intensifies until the conclusion, which leaves the reader unsure about the outcome of many of the characters until the very end.
No Angel is fiction, but its powerful themes of good versus evil, spiritual promptings, choice and accountability, family, friendship, and loyalty, make it a valuable springboard for family discussions on these topics, and therefore makes this book one to be read together as a family, and worth having in a family library.
This is a first-rate read that quickly earned Theresa Sneed a Whitney Award nomination. Sneed is a talented writer who should find No Angel a contender for Whitney's "Best Novel by a New Author" award. She is already completing a second project, proving that great things are ahead for her, and those who pick up her imaginative, tender books.
Diane rated it
What an amazing little book this was. I just could not put it down.
For a first book the author did an amazing job writing it. The characters where just wonderful
The author takes us on a wonderful trip of twist and turns. You never know where the story will take you next.
The story opens by introducing you to Jonathan Stewart who is to become the guardian angel of a special spirit. Jonathan is not very happy by this since he does not want to go back to earth. He is counting the days till he goes back to heaven. He thinks anyone that wants to go to earth is crazy since heaven has everything.
Another thing he forgot to read the guardian angel handbook. The handbook tells about the conditions surrounding the exceptional spirits assigned to EMD….they are a prize target of dark spirits. We find even demons, like angels have certain limits allowed to them. Both have very strict rules that they have to go by. Now Jonathan is lucky to have other guardian angels to help him and guide him.
This book will make you cheer and cry. I would say this book should be read by everyone. They will find a certain comfort in it.
Luis Valenzuela's review Sep 27, 11
No Angel was an unexpected delight. I knew it would be good, I didn't figure on it being so beautifully written. By the end of the book I was in tears, both of joy at the ending and despair that I had finished it already and would have to wait. This perspective of the afterlife is really interesting and the world and mythos is so fully developed that it becomes something more than the sum of its parts. Truly a beautiful read, I can't wait to tell my family and friends to pick this book up themselves. Thank you, Theresa Sneed, thank you!
Kristy's review Oct 03, 11
New author Theresa Sneed tells a captivating story about the life we lead and the parallel world of angels and the unliving walking beside us. The fast paced storyline of a reluctant guardian angel and the girl entrusted to his care kept me captivated as the hesitant hero battled the creatures bent on destroying Faith. Although reticent and unengaged at first, by the end our angel is flinging himself into peril to save his young charge. Be warned, when he comes face to face with the misunderstandings of his own mortal experiences hankies are in order. This book will make you laugh, cry and wonder about the life beyond this one and the angels and the unliving who inhabit that unseen world.
5.0 out of 5 stars Great New Story, September 22, 2011
This review is from: No Angel (Paperback)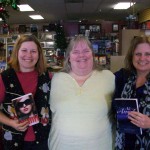 No Angel by Theresa Sneed is a fun fast read. I had a hard time putting it down.
Jonathan Stewart is assigned to be a guardian angel for a baby girl, marked for early death. He reluctantly accepts the assignment, thinking it will be short term. Jonathan is surly, arrogant and certainly reluctant to learn from the other guardian angels also assigned to the family. As time goes on and Jonathan's back story starts to be revealed, I started having warm fuzzy feelings towards him.
A trip to the underworld, and being separated from the child he is guardian for, teaches him a lot about trusting in God, praying, love and duty.
I liked the idea that we all have guardian angels assigned to us throughout our lives, to help and encourage us.
I would recommend this book to everyone, LDS and Non LDS alike.
5.0 out of 5 stars Awesome way to spend my evenings!, September 22, 2011 By small2011
 This review is from: No Angel (Paperback)
I absolutely loved this book! Theresa Sneed is amazing. When I say "amazing", I mean she has a writing style that keeps you intrigued and amazed at the same time. I highly recommend this book to anyone that loves Angels, and stories about the struggles and triumphs that we face in today's world. I look forward to reading anything else she writes.
Sandra Biehl rated it
I picked up the book last week, I am 3/4 of the way through and I have to say I'm loving the book, story-line, characters, etc…
It's really nice to pick up a book, enjoy reading it and not worry about language or/ and content!
I think part of why I'm enjoying the book is that I like imagining who my guardian angel is…
Wade v Burkhart rated it
very good book enjoyed it very much could not put it down.
5.0 out of 5 stars No Angel by Theresa Sneed, September 8, 2011
By tmsneed  This review is from: No Angel (Paperback)
I LOVE this book! This is a wonderful story about a spirit named Jonathan who didn't have a good experience as a mortal on earth and certainly does not want to return as a guardian angel – but he has to, because it's required of all post-mortal spirits to complete at least one angel guardianship. This book delves deeply into what a guardian angel might be like and how often we can and do receive needed help and encouragement from beyond the veil. This story is also about the very real negative force in that unseen world that surrounds us too – although I call them sheydim, they are also known as demons–not to be feared, nor respected, but understood as the bodiless spirits bent on destruction that they are.
4.0 out of 5 stars Angels have to read the manuals, too . . ., December 8, 2011
By Janet K. Jensen – This review is from: No Angel (Paperback)
No Angel by Teresa Sneed is the story of Jonathan Stewart, a reluctant guardian angel. He's not anxious to return to earth, but it's a requirement, which he would have known if he'd read the manual, so thinking he'll take the easy road, he chooses a mortal whose stay will be brief. He's assigned to Celeste Knight, a determined and valiant young girl who is in no hurry to leave her earthly state.
I must admit, I usually picture angels as . . . well, angelic, but Jonathan's got some very human quirks of his own – – some lovable, some not so lovable. I liked the concept that angels still have to learn and grow, too, and that they have manuals that, just like the rest of us, they don't like to read. There's certainly a lot more in the job description of guardian angel than Jonathan realizes, and he finds himself in a few fixes as he learns his job. On earth, Jonathan finds himself embroiled in the fight of good vs. evil at every turn. In the process he learns a great deal about himself. If angels had wings, he'd certainly earn his (did I just hear a bell ring?) There is humor in this creative and suspenseful story, and the ending is more than satisfying.
4.0 out of 5 stars No Angel will keep you reading and not wanting any interruptions! November 13, 2011
By S. Staley This review is from: No Angel (Paperback)
This book is very different from any angle and demon book I have read. The story is centered on the lives of the guardian angels and the demons known as "Sheydims" in this novel. I loved the perspective that we were given on how people's guardian's angels are chosen. I also loved how Heaven was portrayed. It was also equally interesting to see how "hell"; the underworld, where the Sheydim lived, was portrayed. Let's just say, I don't want to end up there!
The main character, Jonathan Stewart, is quite the odd guardian angel. He doesn't want to do this job and so he chooses someone, Celeste with EMD status, who is supposed to have a short life span on earth and will be marked for an early death. Jonathan is not a pleasant angel and he hates Earth. His earthly experience had not been a good one as a human, so he doesn't want to go back at all. Nothing really goes well for Jonathan in this book until he starts changing his bad attitude about everything. Celeste teases him about being "The Grinch".
Let me tell you, there is A LOT that happens in this book. You will see humor, happy things, scary things (The Sheydim are just downright creepy), and also some very tense moments. There is something that happens at the very end that brought me to tears and left me feeling so good about myself and life in general. It happens in the last two pages, so when you read there, you will know exactly what I mean.
No Angel will keep you reading and not wanting any interruptions. Theresa does a wonderful job teaching many life lessons, without beating you over the head. Learning to love and to accept love, was my favorite theme. If you have an open heart, you will be greatly enriched by reading No Angel.
Danyelle Ferguson rated it
I absolutely completely LOVED No Angel by Theresa Sneed. It's definitely one of the best books I've read all year. I loved the characters, the action & plot kept me in suspense and glued to the book, and the author did an excellent job threading romance into the story. Fabulous! I look forward to adding more of her books to my shelves.
Kay Curtiss's review Oct 23, 11 Read in September, 2011
No Angel by Theresa Sneed joined the list of books I've read that kept me up through the night to finish. Following the life of a Guardian Angel, you get an interesting view of mortality – the effect of the choices we make which enables who has a closer access to us for promptings – the "good" or "bad" angels – and also that progression continues beyond the grave as you watch Jonathan continue to grow as he fulfills his responsibility as a Guardian Angel. There is a good mix of humor and interesting characters along the way to make No Angel a book to definitely add to you reading list. Read my full review at http://tinyurl.com/BT-NoAngel 
No Angel, by Theresa Sneed (Tristi Pinkston, AML).
"I enjoyed this read. I appreciated the explanation of how angels and demons have opposite goals for us – although couched in fiction, it helped me visualize the battle that really is taking place for our souls. I liked the touches of humor and the creativity that went into the creation of the story. It was a paranormal without being too dark. It talked about the premortal life in a way that's easily recognized by LDS readers, but written in such a way that readers of every Christian faith will appreciate. This is the first in a series, and I am definitely looking forward to the next installment.""
Read more about This Week in Mormon Literature, January 25, 2012 | Dawning of a Brighter Day on:
http://blog.mormonletters.org/?p=3863&utm_source=INK&utm_medium=copy&utm_campaign=share&
Jennie Hansen:
Though a first book author, Sneed has a solid understanding of creating a fiction arc and keeping her readers entertained and turning pages. I love her sense of humor, wild imagination, and her ability to make her fantasy feel plausible.
Read more about 2011 Mormon Literature Year in Review, Pt. 2, Mormon-market fiction | Dawning of a Brighter Day on:
http://blog.mormonletters.org/?p=3910&utm_source=INK&utm_medium=copy&utm_campaign=share&
"No Angel, by Theresa Sneed (Sheila of LDSWBR)  4 stars.
This book is very different from any angel and demon book I have read. The story is centered on the lives of the guardian angels and the demons known as "Sheydims" in this novel. I loved the perspective that we were given on how people's guardian's angels are chosen. I also loved how Heaven was portrayed. It was also equally interesting to see how "hell"; the underworld, where the Sheydim lived, was portrayed. Let's just say, I don't want to end up there! . . . No Angel will keep you reading and not wanting any interruptions. Theresa does a wonderful job teaching many life lessons, without beating you over the head."
Read more about This Week in Mormon Literature, November 18, 2011 | Dawning of a Brighter Day on:
http://blog.mormonletters.org/?p=3439&utm_source=INK&utm_medium=copy&utm_campaign=share&
5.0 out of 5 stars Family Member, January 30, 2012
By Bubby –  This review is from: No Angel (Paperback)
I finished "No Angel" last evening…it was fantastically written; a heartfelt story that hit a lot closer to home than I would have ever imagined. I absolutely loved the way that Theresa weaved the plot into several directions…allowing me to guess where it might be going along the way. Wow…the ending was perfect…
Theresa has a special gift that she has obviously developed over time based on what I can only surmise as her experiences in life…as well as her beliefs. This combination allows her to dive into places that people like myself would never in a million years have come up with on our own…What makes this story so "unique" is Theresa's creativity in putting a "Twist" into the battle between good and evil for a person's soul…and hopefully I am not giving to much away here, but to also make you believe that even as an "Angel" there is much more to learn (if you failed to learn it while you were "earthly") … THIS is what kept me captivated and always wondering what would happen next. Theresa has an amazing talent to put this gift of insight into words, which inspire people like me, allowing "complete visualization" of what her fantastic imagination has developed. I am not an overly religious person…I have not gone to church in over 20 years…this being said, I do believe that there is a GOD…and I have always believed that GOD is the "Voice of Reason" which we choose to follow or ignore…It truly made me smile at how eloquently her book took this idea to a whole new level and made it seem so real…almost as if it could actually happen that way…and who knows, perhaps "No Angel" is a lot closer to fact…than fiction… "No Angel" will give you goose bumps thinking about all of the hidden messages GOD has sent you through Theresa…and me personally, well I have come to the realization that "this book found me"…and it was not an accident…but almost as though it was meant to be…
I know reading Theresa's book has already taken me to places where I could never have dreamed of on my own…and "No Angel" affected me and my own beliefs in ways that I cannot even begin to put into words…quite frankly, "Thank You Theresa for allowing me to experience this" just doesn't seem to be quite enough…
Book review: "No Angel" an angelic book
By Shelby Scoffield For the Deseret News
Published: Sunday, Feb. 26 2012 12:00 a.m. MST
"NO ANGEL," by Theresa Sneed, Walnut Springs Press, $17.99, 281 pages (f)
"No Angel" is an entertaining book of angelic proportions. It is a must-read for those who are looking for a book with a unique storyline.
Jonathan Stewart is content with his average job in heaven. He is a grumpy man who would rather stay to himself. He hated his time on earth and hates to be around people. So when he is chosen to be a guardian angel to a woman named Celeste, he couldn't be more surprised. Who would want him to watch over them on earth? At least Celeste has an early marked death, so Jonathan won't have to stay on earth for long. Or so he thinks.
Little does Jonathan know that Celeste can choose the time she leaves earth, so he is stuck being her guardian angel for who knows how long. Jonathan watches Celeste defy death on a regular basis. As time goes by, he slowly grows to love the little girl he was chosen to watch over.
Though displeased, Jonathan fulfills his guardian angel duties. He warns Celeste of impending danger and does his best to make the best of his situation. He learns that Celeste has a special mission and he is to help her fulfill it.
"No Angel" is embedded with Mormon theology and had also been nominated for a Whitney Award through LDStorymakers. Author Theresa Sneed creates a world where good and evil battle it out. It is a wonderful attempt to teach readers that there is always someone looking out for you.
Though filled with positive messages, the book is confusing at parts. The author packs so many details and names into the story, the reader gets lost easily. Sneed should have kept her story more simplistic.
Though a complicated story, "No Angel" is still delightful and inspiring tale for all ages.
Shelby Scoffield is a graduate of Brigham Young University and a graduate student at California State University, Stanislaus.
The following are reviews of the forthcoming From Heaven to Earth due to go to press March 2012:
Shawnette Neilson:
I love your imagination and I truly believe this is a FABULOUS book. No hesitation or doubt. No question. I really, really loved it. I was there in heaven. I saw things the way you wanted me to. It was magical. It was REAL. It was truly wonderful. I loved the classes that they took and all the lessons YOU TEACH as you tell your story. It is beautiful. I love the struggle between good and evil. I love that some people we care for made bad choices. I need to read the updated war in heaven scene, I realize. But, Theresa, you have a grand book here. Truly inspired. I honestly can't say enough good about it.
I left a few notes here and there of my impressions and such. I hope they are helpful. You truly touched my heart again and again. Your words are from god.
Katelynd Richins Gillins:
Theresa!!! I just got No Angel TODAY!!!! I am SO freaking Excited!!! And i just finished reading [From Heaven to Earth] (I'm not finished with my deep editing yet) and i have to say, thank you so much for such a beautifully spiritual experience. And Thank you so much for deciding to be a writer. I feel so incredibly blessed to know you and to have the opportunity to partake in your beautiful talents! You are a gift to all us mortals just trying to find our way back to our Father in Heaven. I anxiously, ANXIOUSLY await the next book!!!! I'll have [From Heaven to Earth's] edits to you as soon as i can. School starts up again for me next week so i have a few other things i have to finish as well before Monday  Again, THANK YOU THANK YOU THANK YOU for writing [From Heaven to Earth]!!! It was the first ever book i just HAD to listen to the Tabernacle Choir while i read it and got a little choked up while i read about each 'What's The Matter' session. Thank you for letting me be a beta reader!!!