Why did the new student at Foxcroft Academy High School have to be so cute? Handsome and rich, Liam Powers moves into town and into Angie's heart. The problem is that he is Coe—from heaven—the very person she hoped she'd never meet on Earth.
If only Daniel had been born in America, instead of thousands of miles across the ocean. Will their guardian angels get them together in time, or will Angie's attraction to Liam ruin her chances of finding true love?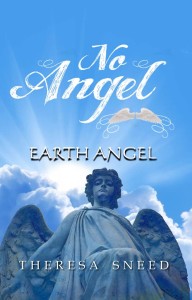 Announcing the release of the fourth book in the No Angel Series, Earth Angel, on January 28, 2016. Earth Angel continues the humorous and heart warming saga of Jonathan and Celeste, Grace and Markus, and Sophie and Daniel – guardian angels who strive to keep their clients from danger, and from the enticements of the devious sheydim, or demons, that are ever present and always seeking their clients' demise.
Prologue 
Immortals walk the Earth as angels, as do the sheydim—demons, as they are more commonly called. They exist in the spirit realm that surrounds us. Invisible to most mortals, they have more to do than just flit around and watch over their charges, although that is their foremost work. There are long planning meetings to attend, reports to file, and a meridian of menial tasks that must be performed for or against their clients.
Because guardian angels are often overloaded with numerous duties, they sometimes request the assistance of another guardian, or even an off-duty temp guardian—one who has previously fulfilled his or her duties. Then there is the necessary time-off for guardians to get a much needed reprieve from their clients, because although angels are on God's time, they live on earth's time—and some of it can become quite tedious. Especially if their client is a couch potato, or a video game addict, though some guardians have taken up the primitive sport of gaming themselves.
In very rare, but not unheard of cases, a guardian may even request a release from their duties, but that is heavily frowned upon and must get special clearance from Horace, the head of Guardian Departures at Heaven Resources who carefully monitors all guardian angel activity on earth.
Please follow and like us: