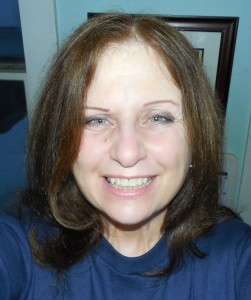 Welcome to my corner of the world ~ I'm Theresa Sneed, author of the No Angel series, the Sons of Elderberry series, the Escape series,  the Salem Witch Haunt series, and my first nonfiction books: So You Want to Write: A Guide to Writing Your First Book, and Facing Mortality: Dreams & Other Significant Things.
So You Want to Write: A Guide to Writing Your First Book
I've had many people ask me how to write a book. For years, I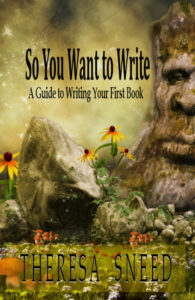 have added content to this website in response to that question, and so now I have compiled all of the answers into my first nonfiction book on writing. So You Want to Write: A Guide to Writing Your First Book is a short but informative book that takes the new author through fifteen steps from preparing a writing sanctuary to marketing.
Step 1. Get your writing sanctuary ready
Step 2. Schedule a consistent time to write
Step 3. Begin an ideas page or folder
Step 4. Brainstorm ideas
Step 5. Storyboarding
Step 6. Develop your writing
Step 7. Find beta readers
Step 8. Start a new writing project
Step 9. Revise and edit your manuscript
Step 10. Hire a professional editor
Step 11. Revise and edit again
Step 12. Format your book
Step 13. Create your cover
Step 14. Publish your book
Step 15. Marketing
Facing Mortality: Dreams & Other Significant Things
par·a·nor·mal     adj.  
Beyond the range of normal experience or scientific explanation.
I was only nine years old when I had my first experience with the paranormal—definitely beyond the range of normal experience or scientific explanation. – Theresa Sneed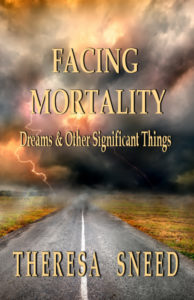 When author Theresa Sneed finds herself in the ICU with a condition her doctor would later reveal most people die from, she sets about pulling old files together to explain her unique beliefs based on her personal experiences.
FACING MORTALITY was written while in the hospital recovering from deep-vein thrombosis and pulmonary embolism. Throughout her life, Theresa has had some incredible experiences with the spirit world that would later drive her to write her NO ANGEL series and many of her other works.
No Angel series:
Angel with an Attitude, Earthbound Angel, Destiny's Angel and Earth Angel are the first four books in the No Angel Series, with many more to come. People often ask me why I write about angels ~ I write about angels, because I believe in them. I can't imagine that God would send us to earth without their extra help. Read my novels, and see if you don't believe in them too!
Book One – Angel with an Attitude (formerly called No Angel)
Jonathan Stewart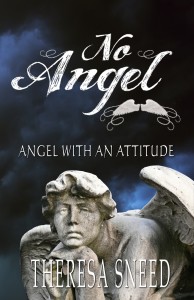 is not at all happy about having to return to earth as a guardian angel, but it's required of all post-mortal spirits to fulfill at least one angel guardianship. Fortunately, on the Guardians Unlimited application, he had the good sense to request a client with early-marked-death status, so he believes that while his stay on earth will be most unpleasant, at least it will be short. What he doesn't know is that a spirit with EMD status can choose his or her time of death! Jonathan's client, Celeste Knight, has a mind of her own and refuses death at every turn, leaving him stuck as her guardian angel in a place he only wanted to forget.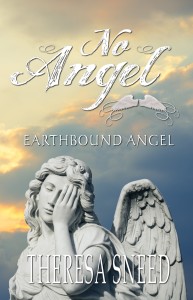 Book Two – Earthbound Angel (formerly called Earthbound)
Heaven used to be such a perfect place . . .
As the time draws near for the first spirits to leave their home in heaven, a group of rebellious dissenters begins to appear at every blue-planet planning meeting, demanding that all mortals are ruled by compulsory choice, instead of having the freedom to choose for themselves. Daniel is a courageous Freedom Fighter who vehemently opposes the No Choice movement. Sophie is impressed by his strong desire to do what's right . . . and by his intense blue eyes. But she also has a strange attraction to the handsome and ostentatious Coe, a leader of the No Choice movement, who has his sights on her and will stop at nothing to claim her as his own.
Earthbound Angel is set in heaven, because if you believe in angels, you've got to believe in heaven too, and I do. When I was a little girl, I thought that my spirit and body were created at the same time when I was born, but through study and inspiration, I have come to believe that my spirit was created a long time before my body, and that I lived as a spirit child in heaven with heavenly parents, along with all of you. So, I tried to imagine that . . . I hope you enjoy the results of my imagination.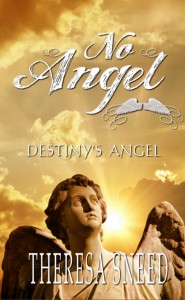 Book Three – Destiny's Angel
Destiny's Angel takes the main character in Earthbound Angel (the spirit child, Sophie) and has her born on Earth as Angie. As a teenager, Angie makes a few bad choices and finds herself captive on a cruise ship bound for Spain.
This book weaves the spiritual aspects of the first two books into realistic, mortal settings, retaining guardian angels and sheydim (demons) throughout. Destiny's Angel is a suspenseful story about Angie trying to escape from the hands of human traffickers.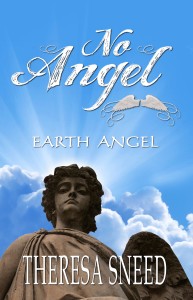 Book Four – Earth Angel
Earth Angel continues the No Angel saga following Sophie, Daniel, and Coe on earth, and Jonathan and Celeste in heaven, as well as other No Angel favorites: Grace, Markus, and Horace, along with the ever annoying throng of sheydim.
The drama from the previous summer had died down and Angie hoped for a somewhat normal senior year at Foxcroft Academy High School. It would have been fine, if the handsome Liam Powers hadn't moved into town. Unbeknownst to her, Liam, formerly known as Coe in heaven, is the one person she hoped she would never run into on earth. It would have been a lot easier if Daniel had been born in America instead of thousands of miles across the ocean. Will their guardian angels be able to get them together in time, or will Angie's strong attraction to Liam ruin her chances of finding true love?
Sons of Elderberry series:
Book one – Elias of Elderberry 
Elias Rey, a fifteen year old student at Penquis Valley High School, is skinny, has a chipped tooth, and a bad case of acne. His favorite pastime is drawing dragons, and his room is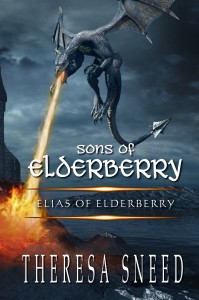 plastered with his renditions.
Tested out as a genius, he should be in college instead of high school, but he chooses to be with the only family he has ever known, his foster sister, Lizzie, and his best friend, Jaron.
Life is good, except for one thing – Brute, the meanest student at PVHS. Elias considers moving to be rid of Brute's constant bullying, until one fated day, when a strange boy pushes a leather pouch into his hands, and then mysteriously disappears, leaving Elias to wonder who he is. Shortly thereafter, Elias discovers that the pouch contains Ilesar, an ancient papyrus that can give him anything his heart desires. He isn't going to be pushed around. Ever. Again. At least, not by the school bully.
Book Two – The Wood Fairies of Estraelia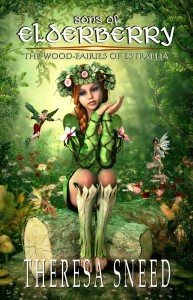 How will Elias's brothers fight the dark forces of sorcery and rescue Saulen from the dungeons of Sirusas? And what of the dragon egg that Adalee took from the caves in the eleven kingdom of Eldervale? Will she be able to keep the egg a secret in the non-dragon fairy kingdom of Estraelia? And what will she do if the egg hatches?
The Escape series:
Book one – Escape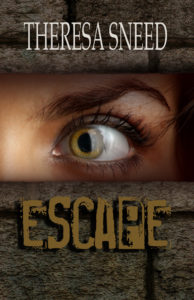 Sam recognizes the signs of abuse and gives her and Sally a safe place to hide, while he takes off on a perilous journey to Taunton, MA to clear her name from the nationwide smear campaign the sheriff initiates, and the reward money he cunningly hangs over her head. Sam must hurry before the corrupt sheriff uncovers the trail that leads to his cabin and to the young woman and little girl he is trying to protect.
The second book in the Sandee Jae series called Missing is my current WIP (work in progress.)
Salem Witch Haunt series:
The Salem Witch Haunt series is realistic time travel steeped in suspense and intrigue with a touch of sweet romance. Using primary sources, Theresa Sneed masterfully weaves the trials and hangings into this insightful historical fiction. Book one, Salem Witch Haunt, covers the first six hangings: Bridget Bishop, Sarah Good, Elizabeth Howe, Susannah Martin, Rebecca Nurse, and Sarah Wildes. Book two, Return to Salem, covers the next five hangings: Reverend George Burroughs, Martha Carrier, George Jacobs Sr., John Proctor, and John Willard. The third book (not yet written) will cover the horrific crushing death of Giles Corey, and the remaining eight hangings: Martha Corey, Mary Easty, Alice Parker, Mary Parker, Ann Pudeator, Wilmot Redd, Margarett Scott, and Samuel Wardwell.
Book one – Salem Witch Haunt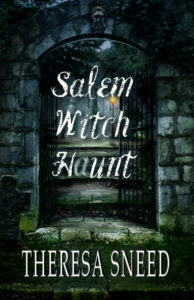 When she finds herself thrust back in time, seventeen-year-old Bess Martin, a senior at Danvers High, sets out on a mission to save her eleventh great-grandmother from the gallows-tree. With a near-perfect knowledge of the historical events about to unfold, Bess knows the untimely fate of many. The problem is that Bess has inherited her grandmother's sharp tongue—a tongue that caused her grandmother to be tried and hanged as a witch in Salem Village, 1692. Can Bess stop the hangings and change the course of history, or will she share her grandmother's fate?
Book Two – Return to Salem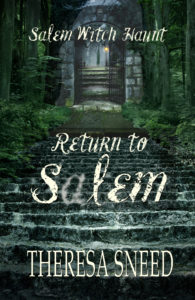 Through a series of ill-fated events, Bess Martin finds herself thrust back to Salem in the middle of the Salem witch trials. Last time, her sharp tongue earned her 'high suspicion of sundry acts of Witchcraft', and she barely escaped with her life. Will Hezekiah, the brave young man who came through the rift to the future with her three years earlier, follow Bess back to Salem and rescue her before her quick temper decides her fate?
As the ninth great-granddaughter of Susannah North Martin, this topic has always intrigued me. I researched it high and low, and what I discovered will amaze you. Every instance involving Susannah in my book, or any of the other victims of the Salem tragedy, is completely based on primary sources. Let me know what you think.
All of my books are clean, sweet, and intense, with no profanity or sexually explicit scenes. Check out the awesome reviews for all of my books on Amazon.com, Goodreads, or right here on this website.
Leave a comment ~ I'd love to know what you think!