Welcome to my little corner of the world! I'm Theresa Sneed, author of No Angel and Earthbound with a third book in the series coming out soon.
People often ask me why I write about angels ~ I write about angels, because I believe in them. I can't imagine that God would send us to earth without their extra help. Read my novels, and see if you don't believe in them too.
No Angel is the story of Jonathan Stewart ~ an angel with an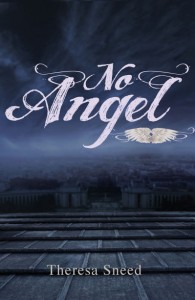 attitude. He was not at all happy about having to return to earth as a guardian angel, but it's required of all post-mortal spirits to fulfill at least one angel guardianship. Fortunately, on the Guardians Unlimited application, he had the good sense to request a client with early-marked-death status, so he believes that while his stay on earth will be most unpleasant, at least it will be short. What he doesn't know is that a spirit with EMD status can choose his or her time of death! Jonathan's client, Celeste Knight, has a mind of her own and refuses death at every turn, leaving him stuck as her guardian angel – in a place he only wanted to forget.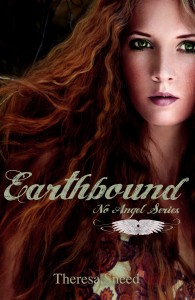 Heaven used to be such a perfect place …
As the time draws near for the first spirits to leave their home in heaven, a group of rebellious dissenters begins to appear at every blue-planet planning meeting, demanding that all mortals are ruled by compulsory choice, instead of having the freedom to choose for themselves. Daniel is a courageous Freedom Fighter who vehemently opposes the No Choice movement. Sophie is impressed by his strong desire to do what's right … and by his intense blue eyes. But she also has a strange attraction to the handsome and ostentatious Coe, a leader of the No Choice movement, who has his sights on her and will stop at nothing to claim her as his own.
Earthbound is set in heaven, because if you believe in angels, you've got to believe in heaven too, and I do. When I was a little girl, I thought that my spirit and body were created at the same time when I was born, but through study and inspiration, I have come to believe that my spirit was created a long time before my body, and that I lived as a spirit child in heaven with heavenly parents, along with all of you. So, I tried to imagine that … I hope you enjoy the results of my imagination.
Check out No Angel and Earthbound's awesome reviews on Amazon.com, or Goodreads, or right here on this website. Leave a comment ~ I'd love to know what you think!